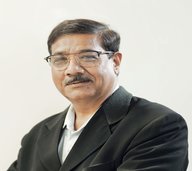 Dr. Sunil rai
Vice Chancellor, UPE
Welcome to UPES - a university whose top priority is to help students fulfil their aspirations and dreams. We work in tandem with students to design customized educational plans that meet their individual goals. Among other things, we offer our students a personalized learning environment with a great deal of flexibility and continuous mentoring. Moreover, we integrate technical knowledge with strong ethics and leadership skills to churn out the best.
Educators have always played an instrumental role in the development and advancement of society and humankind. Despite their contribution, our world continues to face several challenges related to security, environment, energy, and health. We believe that educators create a significant impact on overcoming these challenges and eventually improving the quality of life through their problem-solving abilities, research, and innovation. We are living in a period of rapid change with expanding skills and expertise in several fields across the globe. The present day presents unique opportunities to produce leaders in various disciplines, who not only advance the knowledge of specific professions but who are also sensitive to protecting the environment and wealth of natural resources and maintaining equity. At UPES, we are committed to moulding world-class leaders who make a difference to society.
Our vision is to be recognized for high-quality academic programmes and research through industry-relevant programmes, excellence of our motivated faculty, and state-of-the-art facilities that we provide students. Our academic programmes prepare students better to face new challenges through stronger ethics and entrepreneurship components. We are committed to giving our students an environment, in which they develop critical-thinking and problem-solving skills.
At UPES, students are guided and motivated to practically implement the principles learnt in classrooms through experimentation in laboratories, making them confident and skilled professionals. As we strive to be at the forefront of education, we collaborate with and maintain excellent relationship with industries and leading research centres for joint projects, trainings, and internships. This gives our students an edge, which reflects fully in our high placement records year after year.
At UPES, 'students' have always been our focus. We are a trustworthy destination for students aspiring for an innovative career. We believe in the power of education to transform lives and are committed to making a positive impact to the communities we serve. UPES is more than just a university – it has become a movement that transforms the lives of youngsters. While in the initial years this transformation took place through Petroleum and Energy domain courses, over the years, we have added Infrastructure, Transportation, IT, Design, Planning and Policy, Management, and Law. In the true sense, UPES is the nation-builders' university.
Our programs provide students with excellent opportunities to work closely with faculty members, who are handpicked from premier universities of the world. This enhances the quality of education and the prospect of getting individual attention. We have a team of dedicated scholars as members of faculty and experts from the industry as advisors, who create an exciting and friendly environment conducive for learning. We follow an outcome-based education system.
Whether you are a student, parent, or a curious individual, we invite you to visit our campus to witness the state-of-the-art facilities and excellent teaching-learning atmosphere we are offering. Our enthusiasm knows no bounds and our dedication to take education to new heights is indeed strong.
Here at UPES, we inspire dreams, ignite curiosity, motivate actions, and define the vision for tomorrow. I am happy that you are considering UPES for your studies and I look forward to helping you take this exciting step in your life.