Lecture organized by UPES R&D in association with Applied Science Cluster, UPES under the Learning with Leaders program.
Details of the event:
Date: March 7, 2023 (Tuesday)
Time: 10:00 AM – 12:00 PM
Title: "Science Technology Innovation (STI) based livelihood centric development"
Venue: Hubble Trust
Speaker:
Dr Debapriya Dutta, Scientist G, Advisor & Head, SEED Division, DST, India
About Speaker:
Dr. Debapriya Dutta completed his Ph.D from the Indian Agricultural Research Institute, New Delhi and joined the National Agricultural Research Service of the Indian Council of Agricultural Research (ICAR). He served as Scientist in the Central Soil and Water Conservation Research and Training Institute, Dehradun. He joined the Natural Resources Data Management System (NRDMS) Division of the Department of Science & Technology, Government of India in 1994 as Senior Scientific Officer-I and was serving in the same Department as Scientist 'F' / Director, till May, 2008. Thereafter, he was appointed as the Counselor (Science and Technology) in the Embassy of India, Washington D.C. during 2008-2012. During September 2012-2015, he assumed the responsibility of Director, Indo-French Centre for the Promotion of Advanced Research (IFCPAR), a bilateral organization to promote collaborative research between India and France in cutting edge Science and Technology. Currently, he is serving as Head and Adviser/Scientist 'G' in the Science for Equity Empowerment and Development (SEED), State Science and Technology Programme (SSTP) and National Geospatial Programme (NGP) divisions of the Department of Science & Technology, Government of India.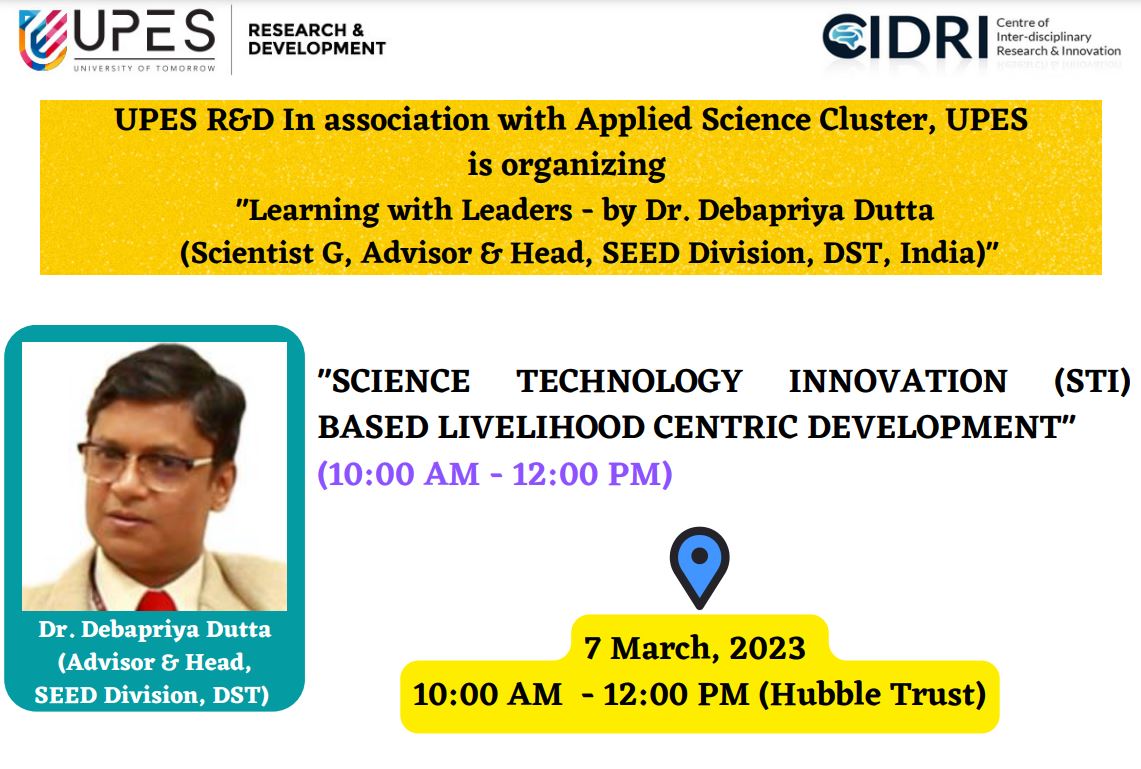 Science Technology Innovation (STI) based livelihood centric development