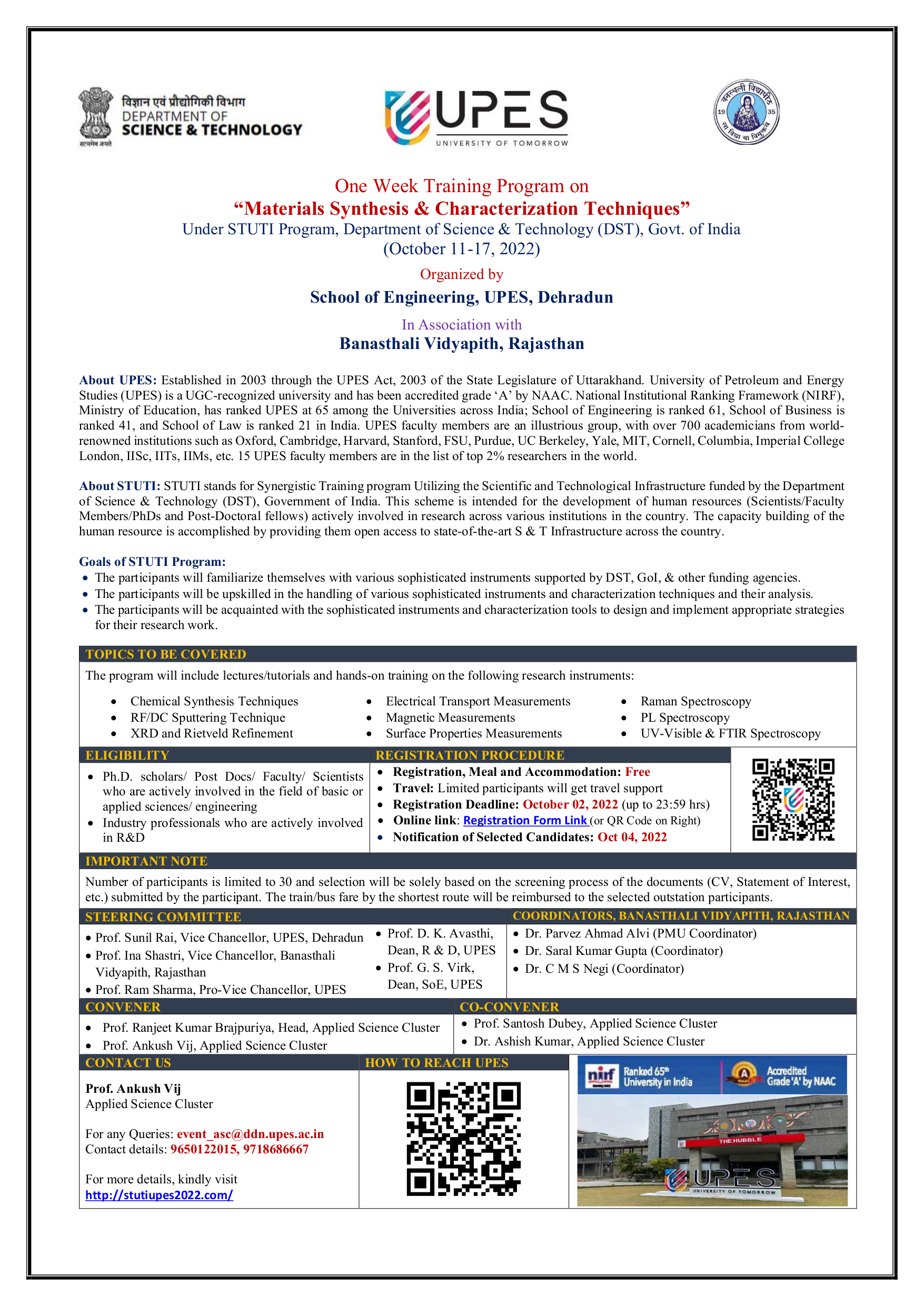 About UPES:
Established in 2003 through the UPES Act, 2003 of the State Legislature of Uttarakhand. University of Petroleum and Energy
Studies (UPES) is a UGC-recognized university and has been accredited grade 'A' by NAAC. National Institutional Ranking Framework (NIRF),
Ministry of Education, has ranked UPES at 65 among the Universities across India; School of Engineering is ranked 61, School of Business is
ranked 41, and School of Law is ranked 21 in India. UPES faculty members are an illustrious group, with over 700 academicians from worldrenowned institutions such as Oxford, Cambridge, Harvard, Stanford, FSU, Purdue, UC Berkeley, Yale, MIT, Cornell, Columbia, Imperial College
London, IISc, IITs, IIMs, etc. 15 UPES faculty members are in the list of top 2% researchers in the world.
About STUTI:
STUTI stands for Synergistic Training program Utilizing the Scientific and Technological Infrastructure funded by the Department
of Science & Technology (DST), Government of India. This scheme is intended for the development of human resources (Scientists/Faculty
Members/PhDs and Post-Doctoral fellows) actively involved in research across various institutions in the country. The capacity building of the
human resource is accomplished by providing them open access to state-of-the-art S & T Infrastructure across the country.
Goals of STUTI Program:
• The participants will familiarize themselves with various sophisticated instruments supported by DST, GoI, & other funding agencies.
• The participants will be upskilled in the handling of various sophisticated instruments and characterization techniques and their analysis.
• The participants will be acquainted with the sophisticated instruments and characterization tools to design and implement appropriate strategies
for their research work.
One Week Training Program on "Materials Synthesis & Characterization Techniques" Under STUTI Program, Department of Science & Technology (DST), Govt. of India (October 11-17, 2022)