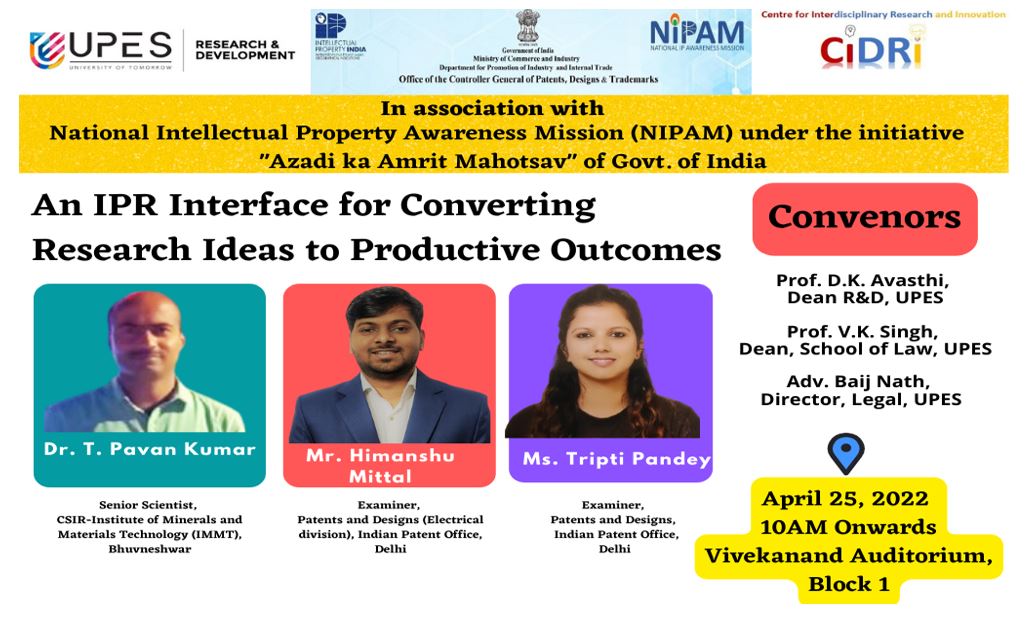 Speakers:
1. Mr. Himanshu Mittal (Examiner of Patents and Designs), Indian Patent Office, Delhi
2. Ms. Tripti Pandey (Examiner of Patents and Designs), Indian Patent Office, Delhi
3. Dr. T. Pavan Kumar, Senior Scientist, CSIR, IMMT, Bhuvneshwar
The R&D Department along with Centre of Interdisciplinary Research and Innovation (CIDRI), UPES Dehradun, in association with National Intellectual Property Awareness Mission (NIPAM) under the initiative "Azadi ka Amrit Mahotsav" of Govt. of India, had scheduled a one day seminar on "An IPR Interface for Converting Research Ideas to Productive Outcomes". All the speakers were welcomed by Prof. D. K. Avasthi, Dean R&D, UPES. Around 200 faculty members and students in hybrid mode attended the session.
Mr. Himanshu Mittal started by introducing to the term IPRs. He introduced the audience with the need for IPRs and shared different possible rights available under the umbrella of IPRs. He shared the process for filing patents and forms and fees related to it. He also shared various rights conferred by the patentee and grant of patent. He emphasized on 'protecting the inventions first before filing'. He shared the Novelty, un-obviousness and industrial applicability as the basic patentability criteria and shared what is not patentable under Indian Patent Act.
Ms. Tripti Pandey started her session by introducing to IPRs other than patents like Design, Copyright, Trade Marks and Geographical Indication. She shared that copyrights can protect the literary and artistic works. She shared the basic requirements for Trademarks, Design, GI and copyright registrations and shared some inspiring examples of each of them.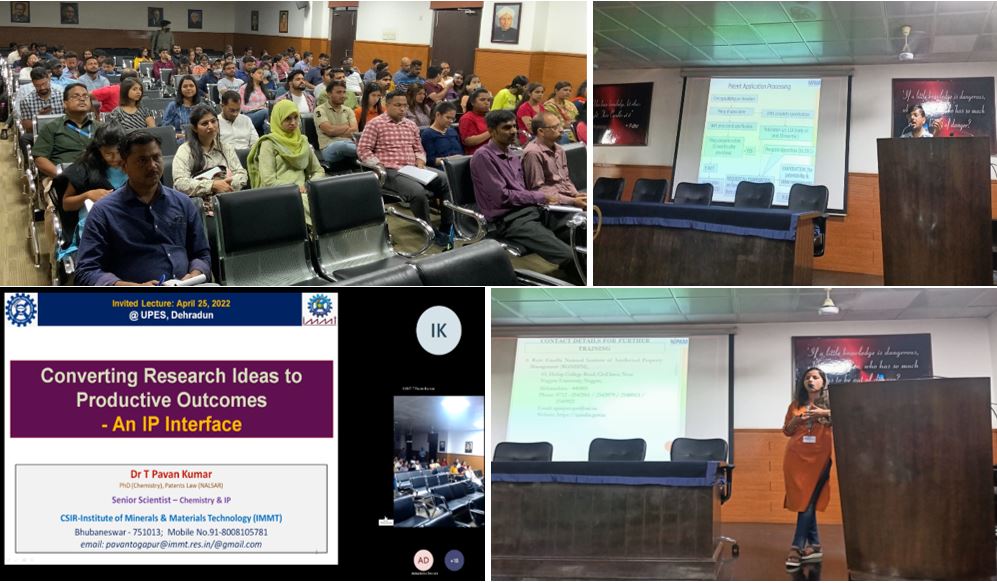 Dr. T. Pavan Kumar started his session with many encouraging examples on historic patents, funny patents, giant patents, some very cheap yet successful patents and some of the all-time famous patents like tin bottle opener. He shared the history of patenting and shared the worldwide scenario of patenting. He emphasized that India is improving in patent filing in last decade. He also shared the importance of IPRs in developed countries' GDPs.
The speakers also visited various R&D facilities – Central Instrumentation Centre (CIC), and appreciated the work being done under various research laboratories. The speakers also appreciated the infrastructure, the kind of cutting-edge research being done, and the facilities available for students and research scholars and hospitality they received in UPES campus.
Glimpses from one-day seminar on "An IPR Interface for Converting Research Ideas to Productive Outcomes"
An IPR Interface for Converting Research Ideas to Productive Outcomes" held on 25th April. 2022